Swedish footballer red-carded for farting during match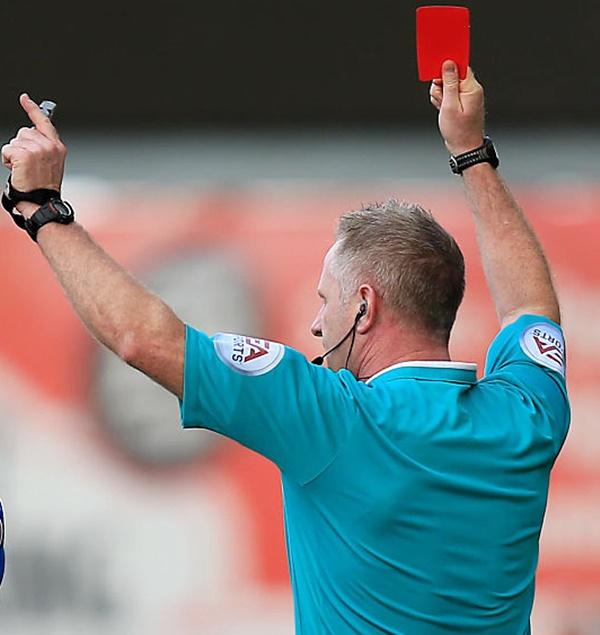 Referee Mark Heywood shows a red card
A
Swedish footballer has hit out after being sent off for breaking wind during a match – with the referee accusing him of "deliberate provocation" and "unsportsmanlike behaviour".
Adam Lindin Ljungkvist said he "had a bit of a tummy upset" while playing for Pershagen SK, and "let off a fart" in the last minute of the game, Aftonbladet reported.
"The referee showed me a yellow card, then followed up with red ... I was pretty angry with the referee, and I could not quite believe what had happened," the 25-year-old said, according to a translation by Vice.
Adam Lindin Ljungkvist, who was playing at left-back in the match between Järna SK's reserve team and Pershagen SK, was shown a second yellow card late on in what local media called "bizarre circumstances".
Opposition striker Kristoffer Linde told the paper: "I was standing a good distance away but I heard the fart loud and clear. It's the strangest thing I've seen on a pitch, and I've been playing football since I was eight years old."
The referee, Dany Kako, confirmed that Ljungkvist had received the second yellow card for breaking wind, explaining: "I perceived it as deliberate provocation. He did it on purpose and it was inappropriate. Therefore, he received a yellow card."
In a post on Facebook, written in Swedish, Ljungkvist's team said: "It was a crappy game, it was a crappy judgment, and that being said, we don't care what other people think about this!! Let's go!"